On occasion, CMSM makes publicly available some of its monographs. The following titles may be purchased by using the PDF forms below or by contacting CMSM by email.
Reflection Guide on Brothers' Document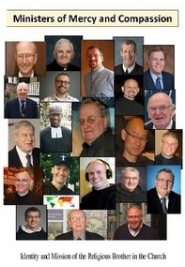 We are delighted to announce that the Reflection Guide to accompany the much anticipated Vatican document on the Identity and Mission of the Religious Brother in the Church may now be ordered on the web.  The publication is a joint effort of the CMSM Brothers Think Tank and the Society of St. Paul (Paulines) under the leadership of their former major superior and CMSM Region Two chair, Matthew Roehrig, SSP.
The reflection guide, Ministers of Mercy and Compassion, with the Vatican text (in English and Spanish) is available via "print on demand" on www.lulu.com. A single copy is priced at $7.95, but discounts are automatically included as you calculate the cost for the number you want to order. You pay for shipping, but you may select from a variety of options for delivery.
A special thank you to the brothers of the Think Tank who contributed their time and talents to creating the Reflection Guide in English and Spanish.
'The Gift of Religious Priesthood'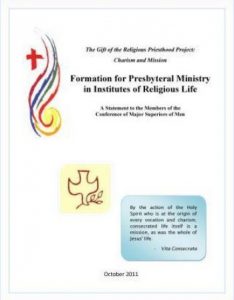 An ad-hoc committee of formators, scholars, and leaders, directed by Leslie Hoppe, OFM, composed a document that clarifies and illuminates how men in consecrated life live out an additional calling to ordained ministry within the Church.
Men who exercise a formational ministry towards new and younger brothers will welcome the insights in this statement garnered both from our rich theological and spiritual traditions and from our common experience.
Print the PDF order form for a paper copy, 32-page booklet of The Gift of Religious Priesthood.
The Statement is available online as (Formation), as is an unofficial Spanish translation (Formación). Both are PDF.
Procedures and Documents for Canonical Processes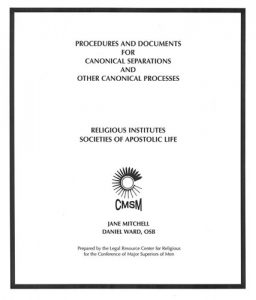 Written by the Legal Resource Center for Religious,* with a grant from CMSM, this resource outlines current procedures for addressing a range of canonical states: Dismissal, Dispensation, Exclaustration, Laicization, and Transfer.
With clear concise language and accompanying sample documents, this user-friendly handbook offers an important Canon Law resource for major superiors, lawyers, and vicars for religious. If you deal with canonical issues, then this resource is recommended as a standard reference book. $35 (payable by cash, check, or money order).
__
*Now The Resource Center for Religious Institutes (RCRI) since summer 2009.
Print the Order Form (PDF) for Procedures and Documents
'A Vision of Life, Health, Sickness, and Death for Religious'
A reflection paper prepared by the Joint CMSM/LCWR Task Force on Health
Care for Religious, 1995.

Out of Print (available only online below)
Contents
Questions follow each section to stimulate discussion. Footnotes cite resources.
Front cover, Introduction, and Part One, pages 1-7 (PDF; 712 KB)
1. Life, Health, Sickness, and Death in the Catholic Perspective
Parts Two and Three, pages 8-20 (PDF; 1.08 MB)
2. The Nature of Religious Life
3. The Witness of the Religious Facing Sickness, Disability, and Dying
In a World that Often Denies Death, a Witness to Faith
In a World that Often Exaggerates Autonomy, a Witness to Trust
In a World that Often Needs to Control, a Witness to Acceptance
Parts Four, Five, Acknowledgements, and Back cover, pages 21-28 (PDF; 791 KB)
4. Religious Communities: Communities of Faithfulness and Care
5. Guiding Principles
Attitudes toward life, health, and death
Care of sick or aging members of the congregation
Health care decisions
Members of the task force included David L. Brecht OSB, Maryanna Coyle SC, Nannette Gentile DC (chair), Phyllis Hughes RSM, Richard J. O'Donnell OS Cam., Philip Thomas OCD. Ted Keating SM served as staff liaison to the task force.