During this year's National Assembly, held online Aug. 3-4, 2021, major superiors from across the United States elected a new vice-president and four at-large Board members. In addition, Very Rev. Brother Kevin Griffith, CFC, elected last year, was installed as president. He succeeds Very Rev. Adam Gregory Gonzales, OCD.
Bro. Kevin is the province leader of the Edmund Rice Christian Brothers North America. He will serve a two-year term. Joining him on the Board:
Very Rev. Jeffrey Kirch, C.PP.S., provincial director of the Missionaries of the Precious Blood Cincinnati Province since 2018, was elected the vice-president. He had been an at-large Board member over the past two years. He was ordained in 2004. He previously was a professor and also has served as Secretary General for his congregation.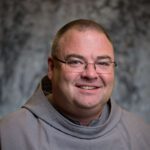 With Fr. Kirch moving to the role of vice-president, four at-large Board members were elected. These include Rev. Michael Heine, OFM Conv., who is vicar provincial for the Province of Our Lady of the Angels. He previously was a teacher, director of guidance and counseling, missionary in Jamaica, co-director of postulants, and director of St. Anthony Shrine in Ellicott City, Maryland.
Rev. Donald LaSalle, SMM, is vicar provincial for the Monfort Missionaries in the United States, a role he also held from 1994-2005. He has been a Montfort Missionary for over 40 years and has held roles in formation ministry. He also was vicar general of the congregation from 2005-2011. He has been active with the North American Academy of Liturgy, serving on the executive board and as president. He currently is a shrine and retreat center director, and a novice beekeeper.
Very Rev. Rosendo Urrabazo, CMF, has served as provincial superior of the USA-Canada Province for the Claretian Missionaries since 2011, and previously served as vicar general in Rome. For six years, he was president of the Mexican American Cultural Center in San Antonio. He has been a professor, pastor,  parochial vicar, and chaplain.
Very Rev. Aaron Wessman, GHM, has been the first vice-president and director of formation for the Glenmary Home Missioners since 2019. He teaches at the graduate level, primarily through Saint Meinrad Seminary and School of Theology and serves on the board of publications for the American Society of Missiology. He has served in Glenmary missions in east Tennessee and North Carolina.
The Board members who completed their terms include Brother Patrick McNamara, FMS; Very Rev. James Gannon, OFM; Very Rev. Timothy Kesicki, SJ; and Brother Patrick Sean Moffett, CFC.